There has been a lot of debates about what differentiates lingerie from underwear. If you think about it, both lingerie and underwear are worn under clothes. So what really tells them apart? It's all about the purpose they serve. Even though both of them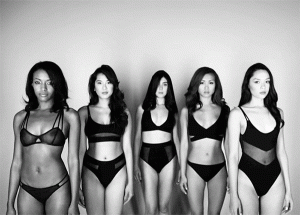 are undergarments, underwear adheres to their functionality while lingerie is all about the intricacy and aesthetics. And most importantly, lingerie can be underwear but never the other way around. The misconceptions surrounding lingerie has persuaded many women to go for the normal undergarments rather than the chic lingerie. The majority of women are still dwelling on whether or not to invest in a lingerie set. There are many questions like "I don't have anyone to buy it for, so why should I?" Well, there's only one obvious answer – buy it for yourself. There's no harm in embracing your body and nurturing it with self-love. Lingerie is like a second skin – elegant, appealing, and sophisticated. It should be a wardrobe essential for every woman, yet so many shy away from treating themselves to this exotic piece of clothing. Lingerie is not just to impress your partner. It can make you look and feel special and more confident about yourself. So if you want to feel good about yourself and put in a bit of effort to impress your special someone, then we suggest that you go ahead and grab a pair of lingerie that best fits you. Confused about what to buy? We'll tell you all about the different kinds of lingerie so that you can choose something that speaks to you:
T-shirt bras
Well, start with the pretty basic one first. Don't confuse this comfortable piece of lingerie with the rest of the pretty basic underwear. T-shirt bras are a must-have for every woman. It's good to keep all the basic shades handy – black, white, nude, and matching ones for your transparent t-shirts, tunics, or tank tops.
Bralette
Bralettes are the unlined, non-padded, and wire-free lace bras that stay close to your skin while letting it breathe at the same time. They have intricate details and an elegant look. There's no doubt about the fact that you will definitely fall in love with a good pair of a bralette.
Convertible bras
Convertible bras are truly a blessing as you can use the same bra as different kinds by adjusting the straps into halters, crisscrosses, and even go strapless. Convertible bras are perfect for low lined necks that reveal a bit of cleavage.
Push-up bras
Nothing assures support like a good pair of push-up bras. Investing in a push-up bra will only add to your confidence. They can give you an edge while providing great support as well.
Bridal lingerie
The bridal lingerie has a different aura of elegance to it. The designs, the fabrics used and even the details are sure to sweep anyone off their feet.
Maternity bras
Maternity bras are the life saviors for lactating mothers. They are so convenient that you don't have to think twice before investing in one. You can easily clip and unclip it from the front.
Hosiery sets
The fishnets can never go out of style. This is the perfect way to spice up your wardrobe and add a badass touch to your look. You can rely on these tights and stockings to make your legs looks slim and appealing.
Seamless panties
Seamless panties are the perfect choice for you if you want to flaunt that skin-tight dress that highlights your curves. Well, the only visible curves should be yours and not the panty lines. To avoid the panty line from showing up every now and then, always wear seamless panties under tight outfits.
Thongs
If you love showing off your skin and letting it breathe then thongs are a good option for you. It's the perfect choice for anyone who chooses style over full coverage.
A matching bra and panty set
A matching pair of lingerie is a must-have in every girl's wardrobe – whether she has a partner or not. Matching lingerie can make you feel more confident in your skin.
We're not talking about pajamas. A chic nightdress with satin and lace will make you feel like a queen. A glamorous queen!