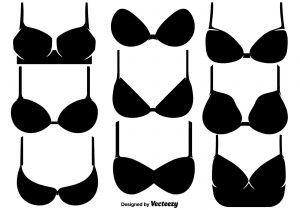 Today's market is so overflowing with different styles of lingerie, different types, and not to mention sizes that can only confuse you, so it is difficult to find that perfect fit. Whether it is the bra, the pants, the chemise, or just a sleeping set that is giving you trouble, we are here to tell you the obvious signs that what you are wearing is not right for you. 
Not enough coverage
When talking about bras, good coverage is what's important. You don't want to have a 'wardrobe malfunction' like Janet Jackson, but you also don't want your bra up to your neck. Preferably, your bra should end two fingers above your nipple, and feel comfortable on the sides, and not like it is digging into your skin. If it doesn't meet those requirements, then it's not the right fit for you. Your bosom should be both covered and comfortable. 
Bottoms are a much more difficult subject to talk about coverage since there are many variations, but if it covers the front so much so that you are confident in what you are not showing, it shouldn't be a problem.
Not enough lift
Again, a common problem with both bottoms, and bras. 
Bottoms that are sagging, or not providing good support, are most commonly a size or two too big, or just stretched out! If this is the case, you should really search the market to find what best suits your body, and your needs, and treat yourself with a few new pairs – it's been a while!
As for a bra, you should look for a combination of support, style, and comfort. As Raffles Milano master's degree in fashion design and business nicely explains, fashion is education about beauty, as well as perfectly coordinating colors, shapes, and materials. Now, underwear may not be the thing everyone sees, but it is what is closest to your skin, and what should make you feel not only beautiful but well-supported. 
A good example of a bra that will help with lifting, is an underwire bra. However, if you find yourself constantly bugged by the underwire, try a demi-bra. Or a bralette. If, however, you like them out there, then a push-up bra is a right choice for you. 
There are skin irritations
Skin irritations can happen a lot, especially with underwear, since it is on your body most of the day and your most sensitive areas. There are numerous reasons why skin irritations occur. One of them can be the type of material used – lingerie made out of polyester is not breathable and will irritate your skin and make you feel uncomfortable. Not to mention that it can cause different health problems. 
Instead, try to find something made of rayon, silk or viscose, for a more stylish look, or a cotton blend, for a more relaxed look. Rayon, silk, and viscose are types of materials that will let your skin breathe, and not have negative effects on your health. Cotton underwear is definitely the safest option for your skin, and it will provide the most comfort and ease, however lacking in style.  
You are constantly readjusting or are in pain
Many women flat out give up lingerie because of how uncomfortable it makes them feel. We are here to tell you that there is no reason to do that, you have just been using the wrong cut, size, or materials! If you find yourself always readjusting your bra, consider buying a bra with a different size cup. Or one that is lined, with padding, but no wire. Women with a smaller bust might have more options, simply because of the size. 
You can try a bralette, a demi bra, a strapless, a front close bra, etc. For a bigger bust, camis are a perfect solution for the most comfortable feel, but also provide the least amount of lift and/or coverage. Underwire bra is the safest way to go but in an appropriate size. Make sure you know what you are doing before going out and buying yet another wrong fit. 
Now that we've confirmed your suspicions about the wrong size or shape of lingerie you are wearing, you have a good reason to go and buy yourself some new ones! But before you do, make sure you know your measurements, preferences, and style, so that, this time, you get it right.